I'm thrilled to bring you this online course so I can share what I've learned about making hand-stitched books and journals that are infused with art! In this class, I will show you how you can merge traditional 2-D art, like drawing and painting, as well as mixed media and encaustic art, with the art of the handmade book. This workshop is the perfect balance of fun-filled, expressive art projects and quietly meditative hand stitching techniques. And even better, your completed journals will not only provide a place for you to plan and reflect or create your art, they make AMAZING GIFTS.
I hope you will join me in class! 
~ Daphne
This course is for anyone who wants to learn how to make beautiful handmade books and journals, but I designed the projects with two different categories of "creatives" in mind:
1) Those who consider themselves beginners and who want to learn a few expressive art techniques that will allow them to create beautiful cover art.  (The art techniques covered are super-simple yet produce impressive results. They are designed to boost your creative confidence and awaken the artist within.)
2) Those who are confident artists, but who would like to learn how to expand their work to take on a new, functional form as the cover or contents of a handmade book. (Whether or not you plan to use the included art techniques for your book covers, you are sure to enjoy them- They are a fantastic way to get those creative juices flowing!)
The full course includes 8 projects, each with narrated, real-time videos and printable project guides. I explain everything as I lead you through my process step-by-step. Each project includes a demonstration of the art technique I used to create my cover from start to finish.  I also show you how to create the structure of each book,  from the preparation of the fill papers to the decorative bindings, embellishments and protective surface finishes. You will be amazed at the way everything comes together in the end, with custom art and design details that ensure each of your books and journals will be a one-of-a-kind work of art. 
Create Artful Journals Course Preview
ABOUT THE BOOK-MAKING TECHNIQUES INCLUDED
This course covers a book binding category known as exposed spine bindings. It is my favorite style for 3 main reasons:
First off, I love the way the exposed stitch bindings become another beautiful design element of the finished book. When I make a book as a gift for someone, I do not want it to look like something I pulled off a store shelf; I want it to look like a handcrafted gift that was made with thoughtful consideration and filled with love, and I view the exposed stitches as a stamp of handcrafted authenticity.

Second, this method doesn't require expensive, specialty bookbinding tools. My most expensive tools are my Crop-A-Dile hole punch and my little paper trimmer- items that can be found in any local craft store or online at Amazon (and cost me less than $30 each- and that was before any discount or coupon).

Finally, I love that this is a relatively quick and easy process. And that it doesn't require any messy glues. And that when these book are opened, they lay nice and flat. Okay that's actually 3 more things, but I there's a lot to love about this style of book!   
ABOUT THE COVER ART PROJECTS
I personally love to draw and paint representational art, but I know that not everyone is comfortable in their artistic abilities. So while this workshop isn't intended to teach traditional art skills, I wanted to make sure that every participant would be able to create beautiful, one-of-a-kind books no matter where they are on that learning curve.  The art techniques included in this course have been carefully curated; Only those that yield impressive results, even by those who believe they don't have natural artistic talent, and that are enjoyable and creative enough to engage those who do, have been included.
ABOUT ENCAUSTIC ART
If you are not familiar with the term Encaustic Art you're in for a treat! Encaustic is a term used to describe a medium that is mainly beeswax. (To learn more, check out my blog article on this topic.) Encaustic can be used to add depth, dimension, texture and interest and can turn even a simple sheet of printed paper into a serious work of art! It gives the surface a lovely weight and creates art that begs to be touched- what better place for art like this than on the cover of a journal? In this course, I provide an introduction to the art of encaustic and use it in a couple of the projects. However, if you decide you are not ready to dive in just yet, you can skip the encaustic parts altogether and still complete the projects. I provide alternate instructions in the printable project guides, and offer additional tips and suggestions in the video content as well.
TOOLS AND MATERIALS
Click here for information on the supplies I used in the workshop.
Project 1: Mini-Notepad
In this project, I transform an ordinary legal pad into three handy little notepads. For the cover art portion of this project, I demonstrate how to develop 2 different "tangled line" designs using just a black and a white pen. If you can draw circles, ovals and simple leaf shapes, you can do this! For the book construction, I begin with a simple, ribbon laced stab binding and then cover the basic Coptic/Kettle stitch combination for the other two notepads. This is a perfect warm-up project for this workshop because it gives you the opportunity to practice the Coptic and Kettle stitches, the most commonly used stitches in this category.
Project 2: Smash Journal
This project begins with a recycled paper bag. You can start with a bag that already has a design you love, or create your own cover art. Inspired by a sugar skull-themed bag I got from a local restaurant,  I demonstrate how I made a whimsical sugar skull of my own with the help of a few stamps and an inexpensive tube of dimensional fabric paint.   I use a pamphlet stitch to bind my mixed paper fill and add a decorative cross stitch to the spine to give it an exposed binding feel. As a final touch, I incorporate 2 screw posts to allow the paper fill to be easily added and removed.
Project 3: Dot Mandala Cutaway Cover
For the cover art, I show you how to create a pretty dot Mandala with craft paint and a couple of items you will probably already have lying around the house. This binding technique I demonstrate for this journal is a special design I use for books that have "Cut-Away" covers.  It is stitched in a way that allows the cover to be removed and repurposed, while the inner, soft-cover text block remains perfectly bound and intact. I like to use this method of binding when I am including cover art that is meant to be placed on display, or possibly even used again for another journal once the initial journal is filled. In this project, I use a gathered/kettle stitch combination to bind my watercolor paper fill. 
Project 4: Scattered Leaves Encaustic Glazed Journal
For this cover, I begin by creating a beautiful watercolor leaf print, and then add warmth, depth and interest with a glaze of encaustic medium. This is a great introduction the the art of encaustic as I explain tools, materials, and processes needed. For the book structure, I use a decorative French link stitch as well as Coptic and Kettle stitch combination. This journal also includes end folders, eyelet details, and an integrated cover design.
Project 5: Mixed Media Butterfly Encaustic Journal
In this project, I show you how to create a beautiful mixed media cover using a printed tissue paper and a some paper butterfly cutouts. This is a slightly more advanced encaustic project, as I use it not only in its raw form for adding dimension and depth, but also as a collaging medium and in its paint form. The project also includes a sewn-over ribbon binding/kettle stitch combination and pretty eyelet details. (Like the others, this project can be completed with or without encaustic medium.)
Project 6: Heart Strings Love Notes Journal
In this project, I use two different string art techniques to create a delicately webbed, double sided journal. For the book itself,  I design a decorative patterned binding + a kettle and coptic stitch combination.  I even include instructions on how to include a secret love notes section and how this His and Hers journal can be the perfect gift for an engagement party, wedding shower or even an anniversary gift for your favorite couple. Check out my blog article here: https://bluequarry.com/perfect-gift-happy-couple/
Project 7: Beaded Book Jacket Art Journal
This journal was my most challenging design yet- and the most rewarding. I begin by creating my dark, textured cover art with watercolors.  Then I demonstrate how I designed and assembled the decorative bead and chain book jacket that can be removed and transformed into a necklace. It even includes a book charm that clips onto the spine and holds the spiral spacers and pendants for the necklace. The journal is bound using a paired needle coptic stitch. This is the perfect gift for the girl who has everything (because you can be sure she won't have one of these!)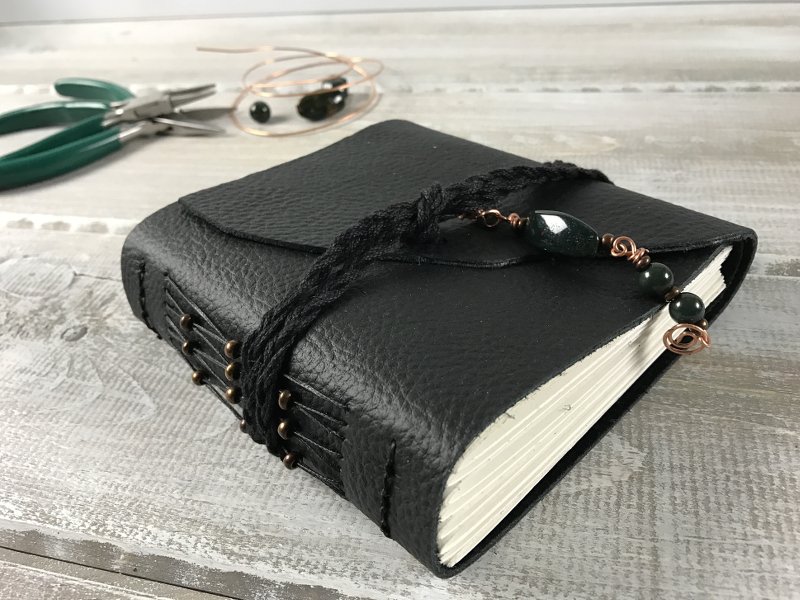 Project 8: Wrap Around Leather Journal
This journal was so enjoyable to make, and one that is sure to impress. It's bound using a through-the-cover long stitch and includes a decorative tie with a simple bead and wire embellishment.  Take a look at some of the leather journals available online and in stores. You'll be surprised at what it would cost to buy something comparable (and amazed at how inexpensive this journal was for me to make). 
COURSE OPTIONS
You can sign up for the full course, or take it one step at a time:
Level 1: Beginning Art Book Techniques 
Great for those just starting out. The projects require only the most basic of tools and inexpensive (or free, recycled) materials. You'll complete the first 4 projects while learning the basics of exposed spine binding, including the simple methods I use to make the binding process easy and frustration-free! These projects include a simple stab binding as well as: pamphlet, coptic, kettle, gathered and French link stitches. This level also includes an introduction to the art of encaustic, as well as my secret method to protect and seal my encaustic covers.
Level 2: Mixed Media Art Book Techniques
For those who are ready to move on, for this level you'll complete projects 5 and 6. The book designs are a bit more advanced, and art projects that are a bit more diverse and geared toward those who enjoy mixed media and fiber art. In project 5, you'll take your encaustic experience to the next level, with a fun mixed media encaustic cover that shows how you can introduce printed papers and pigments (in this case, just white) into the mix. In project 6,  you'll learn several techniques that will allow you to expand your decorative string from the binding to the cover. You'll also explore some of the more intricate and decorative bindings as you learn how to stitch a sewn-over-ribbon binding and a single/double French link variation, and learn how I designed and created my patterned running stitch binding.
Level 3: Bead, Wire and Leather Art Book Techniques
You'll complete projects 7 and 8, and dive deep as the focus shifts away from 2D arts, and more toward the 3D book embellishments. This includes jewelry-making techniques with bead, wire, chain, as well as an introduction to working with leather (and I'll explain where you can find ridiculously low cost leather).  The bindings include the paired needle coptic (my favorite!) and long stitch techniques.
Please Note: I highly recommend you start with Level 1, which covers the basic stitches and assembly methods, before moving on to Levels 2 and 3.
What You Will Learn:
How to create beautiful, hand stitched journals (even if you believe you have no fine art skills).
How to create exposed spine bindings that allow your book to lie flat when open and add a beautiful, decorative element to your journals.
How to apply encaustic medium as a surface finish to add depth, dimension and interest to your covers.
How to apply acrylic medium to create a textured linen surface.
How I finish and protect my encaustic journals. 
The following binding stitches and techniques:
Cut-Away and Integrated Bindings
Coptic Stitch
Kettle Stitch
Paired Needle Coptic Stitch
Running Stitch
Gathered Stitch
French Link Stitch
Double French Link Variation
Sewn-Over Ribbon
Decorative Patterned Bindings
Long Stitch
And the following art techniques:
Drawing whimsical feather and mandala designs
Creating Sugar Skull art using stamps and dimensional paint
Stamping an acrylic dot mandala book cover
Printing with watercolor and collected leaves
Glazing and finishing encaustic covers
Hand-weaving threads into string art (wrap-around and post methods)
Layering paper and pigment to create mixed media art
Working with Supple Leather 
Forming bead, chain and wire embellishments